Mark O. Hatfield Statesmanship Award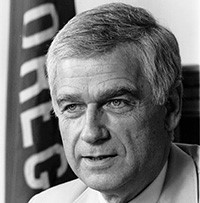 A statesman is defined as "one who is versed in the art of government." The Mark O. Hatfield Statesmanship Award is presented to individuals who have demonstrated similar statesmanship and exemplary service that has positively affected the citizens of Oregon. The Hatfield Award was established in 1996 in appreciation of retiring U.S. Senator Mark Hatfield for his career in public service. It is given when warranted in recognition of lifetime achievements having statewide impact by a person well-known to the citizens of Oregon. Senator Hatfield passed away in August 2011 at the age of 89.
About Mark Hatfield
Mark Hatfield was a student, teacher and practitioner of American politics for nearly his entire life. While teaching political science and serving as dean of students at his alma mater, Willamette University in Salem, Hatfield began his political career in the Oregon Legislature in 1950. After two terms in the House of Representatives and two years in the Senate, he became the youngest secretary of state in Oregon history in 1956 at the age of 34. He was elected governor in 1958 and was re-elected in 1962.
In 1966, Hatfield was elected to the U.S. Senate as an outspoken critic of the war in Vietnam. In 1993, he became the longest-serving Senator from Oregon. At his retirement in 1997, he was the second-ranked Republican and seventh in seniority out of 100 in the full Senate. Hatfield never lost an election and was known as an independent legislator who voted his conscience, for which he earned bipartisan respect from his colleagues.
Eligibility
The Hatfield Award is presented to deserving "statesmen" from the public or private sector who have provided lasting benefits to the quality of life for Oregon citizens.
The Selection Process
A committee of city volunteers and LOC board members will review the nominations and determine whether to make an award.
In making its selection, the selection committee will consider whether the nominee:
Is held in high esteem by the public from unselfish devotion to the call of public service;
Does not waver from personal convictions and observes the highest moral standards;
Has demonstrated a high regard for human life through an awareness of human needs and
compassionate service to their fellow man;
Exemplifies civility at all times, demonstrating personal respect for each individual's potential and rights; and
Is a consensus builder and listener, with a firm belief that patience and negotiation can resolve conflicts and that America must be a model for peace.
Nominations
Nominations may be submitted by anyone, regardless of their involvement in city government. Submissions are due by Friday, September 2, 2022.