Treasury Issues Updated ARPA Compliance and Reporting Guidance
On February 28, the U.S. Treasury released an updated Compliance and Reporting Guidance document that will assist cities in meeting their American Rescue Plan Act (ARPA) reporting obligations. The document includes updates to reporting requirements to reflect the final rule that Treasury adopted on January 6. These updates take effect for the next Project and Expenditure Report that all cities need to submit by April 30.
By now, NEUs should have received multiple emails from Treasury on how to access the reporting portal cities will need to access for their required ARPA expenditure reporting. Treasury also released a user guide with step by step instructions on how to set up an account and upload some required documents into the portal. Although NEUs will not have to complete their first Project and Expenditure Report until April 30, NEUs should log into this system now to upload the following documents:
The signed award terms and conditions agreement submitted to DAS as part of the request for funding;
The signed assurances of compliance with Title VI of the Civil Rights Act of 1964 submitted to DAS as part of the request for funding; and
Actual budget documents validating the top-line budget total provided to DAS as part of the request for funding.
The table below shows the updated due dates and reporting requirements for all cities. Additional reporting resources are available on the compliance and reporting section of the Treasury website.
"Metropolitan cities" are generally cities with a population greater than 50,000 which receive their ARPA funds directly from Treasury, a list of these cities is available here.
"Non-entitlement units of government" (NEUs) are cities that receive their funds from the Oregon Department of Administrative Services, a list of those cities can be found here.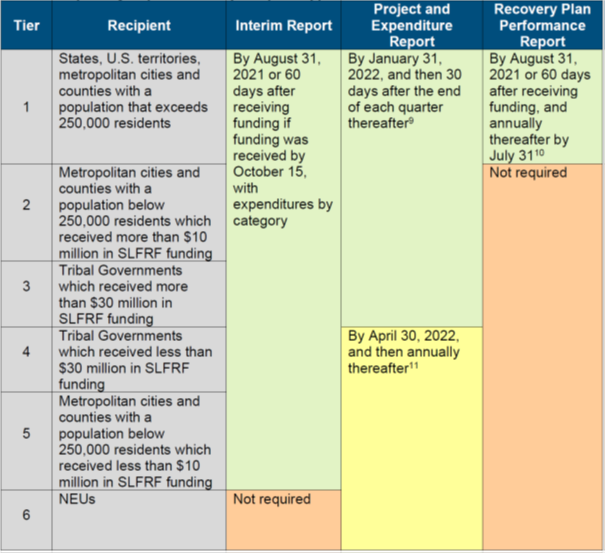 Additional Questions
Individual recipients may send any questions that are not answered in these materials to SLFRP@treasury.gov.
Additional Resources
Contact
Mark Gharst, Lobbyist - mgharst@orcities.org or 503-991-2192
Last Updated 3/4/22