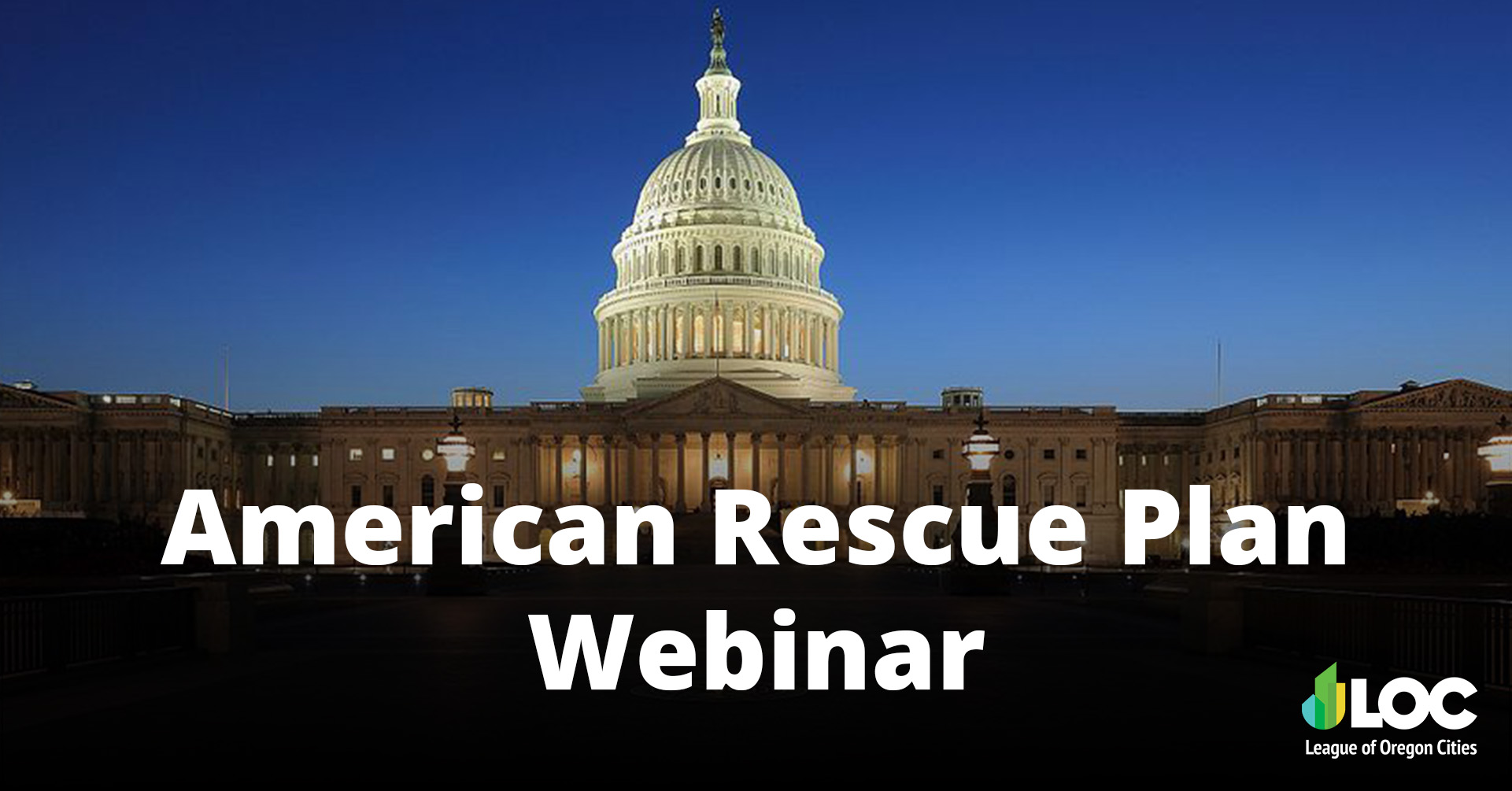 ARPA Guidance Webinar
Watch the webinar for an overview of U.S. Treasury guidance and answers to frequently asked questions.
Watch now
Funding
Cities in Oregon will directly receive more than $680 million through the Coronavirus Local Recovery Fund. Cities are divided into two groups based on the formula outlined in statute to distribute funds.
For Entitlement Units of Government (generally more than 50,000 population)
The first group is entitlement cities who are eligible to receive direct funding under the Community Development Block Grant program, generally cities over 50,000 in population. The U.S. Treasury has released what we believe are final allocation amounts for these metropolitan cities and you can find a list of these cities and their allocations. Metropolitan cities will receive their funds directly from Treasury and can sign up immediately to receive their distribution.
For Non-Entitlement Units of Government (generally less than 50,000 population)
Cities getting American Rescue Plan Act (ARPA) funds through the Oregon Department of Administrative Services (DAS) should have received an email from DAS with the necessary forms and instructions to request funding. The U.S. Treasury refers to these cities as non-entitlement units of local government (NEUs) in its guidance. Generally, these are cities with a population less than 50,000.
Cities are encouraged to complete the required documents as soon as possible. A list of the cities who had not applied as of noon on September 9 is available here.
To verify the person at your city who has received this information, along with their email address, see this contact list.
To verify the person at your city who has received this information, along with their email address, see this contact list. Cities can email DAS to update their contact at Coronavirus.ReliefFund.DAS@oregon.gov (please copy the LOC at loc@orcities.org). The LOC has heard of at least one case where the DAS email was filtered as a spam, so cities are advised to please check their spam folder if the email did not come through and add the DAS address as a safe sender for future correspondence.
DAS has calculated official estimates for the distribution amounts to smaller cities. Allocated amounts may change depending upon whether all NEUs respond to this opportunity and if the 75% budget cap applies to a responding NEU.
DAS Estimated Distributions to Smaller Cities
Several cities have asked that their ARPA funds be deposited in their Local Government Investment Pool (LGIP) account. Cities wishing to use this option should list the "Oregon State Treasury" as the financial institution name and provide their LGIP account number. You may leave the other fields associated with the financial institution blank.
The ARPA request form will ask for the "total NEU budget (annual total operating and capital expenditure budget) in effect as of January 27, 2020." The total ARPA grant cannot exceed 75% of this number. The LOC is not aware of any U.S. Treasury guidance that requires deducting contingencies, reserves or unappropriated funds. Cities will be asked to submit a copy of actual budget documents to the U.S. Treasury validating the "top-line budget total" provided to the state as part of the initial reporting. This could include the budget resolution (and any supplemental resolutions) that were in effect as of January 27, 2020.
The LOC expects and encourages all cities will utilize their ARPA funds and will serve as a resource to member cities as they work through the process. Any city that does not plan to use the funds should contact the LOC at the email address or phone number below. One quirk of the program is that if a city tells the state they do not want the money, the state is allowed to keep the funds; but if a city fails to respond to the state, that money is distributed to the other responsive cities. The LOC asks any city not using their ARPA funds to not respond to the DAS email, but again, our strong preference is every city use their allocation.
For any questions regarding ARP funds, please email LOC Lobbyist Mark Gharst at mgharst@orcities.org.