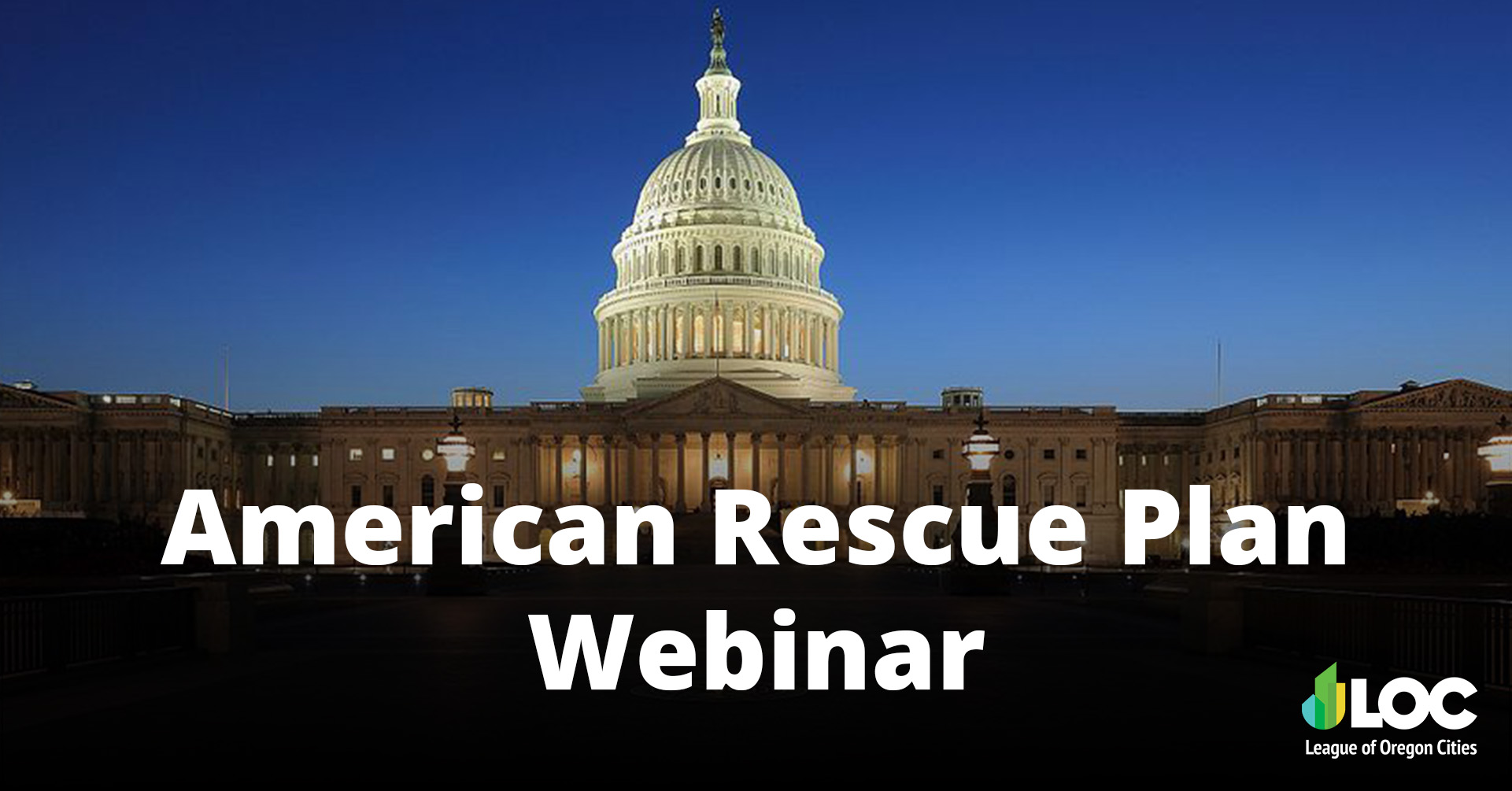 ARPA Guidance Webinar
Watch the webinar for an overview of U.S. Treasury guidance and answers to frequently asked questions.
Watch now
Spending Guidance
Previously released guidance on the use of American Rescue Plan funds is available on Treasury's main ARPA webpage.
The guidance to date is contained in three main documents, you can access them at the links below. The fact sheet gives some basics of the program and brief lists of some of the allowed uses. The FAQ document gives plain language explanations of some of the questions cities will most likely be considering. The Interim Final Rule is the most comprehensive guidance and like all of the documents is searchable using CTRL+F on your keyboard.
Reporting Guidance
Treasury has released additional information on city reporting responsibilities including a guidance document and user guide. These documents provides additional detail and clarification for each recipient's documentation and reporting responsibilities, and should be read in concert with the above guidance.
· Compliance and Reporting Guidance
· User Guide: Treasury's Portal for Recipient Reporting
LOC member cities classified as "metropolitan cities" by the U.S. Treasury had their first Interim Report on American Rescue Plan Act spending due to Treasury on August 31. These are generally cities with a population greater than 50,000 which are eligible to receive direct funding under the Community Development Block Grant program, and a list of these cities is available here. Cities with a population greater than 250,000 (Portland) also needed to complete a Recovery and Performance Report by August 31.
Cities getting ARPA funds through the Oregon Department of Administrative Services are classified by Treasury as Non-Entitlement Units of Government (NEUs) and their first report will be due October 31. A list of those cities can be found here.
This chart from Treasury's Compliance and Reporting Guidance document shows reporting requirements for all cities.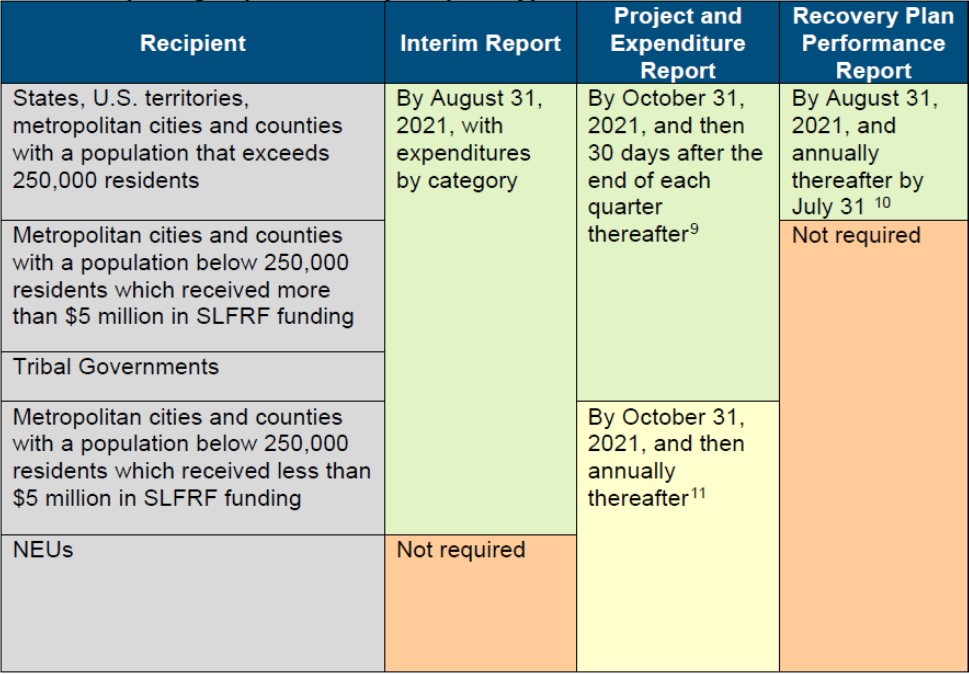 ​​​​​​​​​​​
Frequently Asked Questions
The following Q&A should help answer some initial questions.
How will the state pass the money through to smaller cities?
The state will pass through funds according to a predetermined formula, and importantly, the language states that the state "shall" distribute the funds, not that it "may." The state is still working on details and we will share them as soon as they are available.
Can states place any additional restrictions on ARP funds?
No, the U.S. Treasury guidance specifies the state may not put any additional restrictions on use aside from what is in the act itself and the associated Treasury guidance.
What can ARP funds be used for?
The U.S. Treasury guidance above is the definitive source for information on allowed uses of the funds and supports spend in several broad categories as outlined by Treasury.

Support public health expenditures, by, for example, funding COVID-19 mitigation efforts, medical expenses, behavioral healthcare, and certain public health and safety staff
Address negative economic impacts caused by the public health emergency, including economic harms to workers, households, small businesses, impacted industries, and the public sector
Replace lost public sector revenue, using this funding to provide government services to the extent of the reduction in revenue experienced due to the pandemic
Provide premium pay for essential workers, offering additional support to those who have and will bear the greatest health risks because of their service in critical infrastructure sectors
Invest in water, sewer, and broadband infrastructure, making necessary investments to improve access to clean drinking water, support vital wastewater and stormwater infrastructure, and to expand access to broadband internet
What uses are not allowed for the funds?
The Treasury guidance highlights several uses that are not allowed.

Reducing taxes by legislation, regulation or administration
Deposits into pension funds
Payments of outstanding debt or costs associated with issuing new debt
Payments of settlements or judgments
Replenishing rainy day funds
Additional information is available on the NLC website.
Contact: Mark Gharst, Lobbyist - mgharst@orcities.org or 503-991-2192