2023 City Day at the Capitol
Join Us for City Day at the Capitol on January 25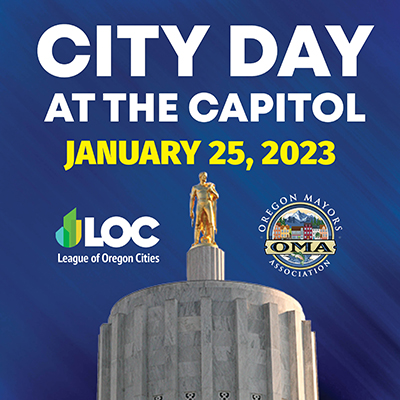 The LOC invites current elected and appointed city officials to join mayors, city councilors, and city staff members for our City Day at the Capitol on January 25, 2023 starting at 8 a.m. in Salem. This event is your chance to stand with other city officials from around Oregon in support of legislative actions that will return greater local authority over local decisions. It is also the time to let legislators know how actions they take could impact our communities and the difficult decisions we make. By coming together, our collective voices will make a difference to advance our legislative agenda.
Highlights of City Day at the Capitol will include presentations from the LOC's government relations team on legislative priorities, and briefings from Oregon's new governor and legislative leadership about their priorities for the 2023 session. You will also have time for individual visits with your legislators, afternoon seminars and a legislative reception with legislators and staff. We expect nearly 200 people to attend.
The most important part of the day will be your individual visits with legislators. The LOC will provide transportation to the Capitol. You are encouraged to schedule your visits with your state Senators and Representatives during the afternoon (1 p.m. - 4:15 p.m.). More information on scheduling visits will be provided with your registration confirmation.
The Legislative Reception will be held that evening from 4:30 p.m. - 7 p.m. at the Salem Convention Center.
Registration for City Day at the Capitol is due by 5 p.m. on Thursday, January 19.
Contact: Melissa Dablow, Events & Operations Coordinator - mdablow@orcities.org