ARPA Reporting Deadline for Largest Cities is January 31
Cities receiving more than $10 million in Coronavirus State and Local Fiscal Recovery Funds (SLFRF) through the American Rescue Plan Act (ARPA) will have their first quarterly Project and Expenditure Report due on January 31. The U.S. Treasury released a user guide on January 7 to assist these cities in completing their required reports. Additional reporting resources are available on the compliance and reporting section of the Treasury website.
Cities receiving less than $10 million in ARPA funds will complete these Project and Expenditure Reports annually, with the first report due April 30. Treasury will be releasing another user guide later to assist these recipients in gathering and submitting the required information.
The table below shows the updated due dates and reporting requirements for all cities. The Compliance and Reporting Guidance document has additional details, including the specific due date and coverage period for each required report type.
"Metropolitan cities" are generally cities with a population greater than 50,000 which receive their ARPA funds directly from Treasury. A list of these cities identifying the reporting tier corresponding to the below chart is available here.
"Non-entitlement units of government" (NEUs) are cities that receive their funds from the Oregon Department of Administrative Services. A list of those cities can be found here.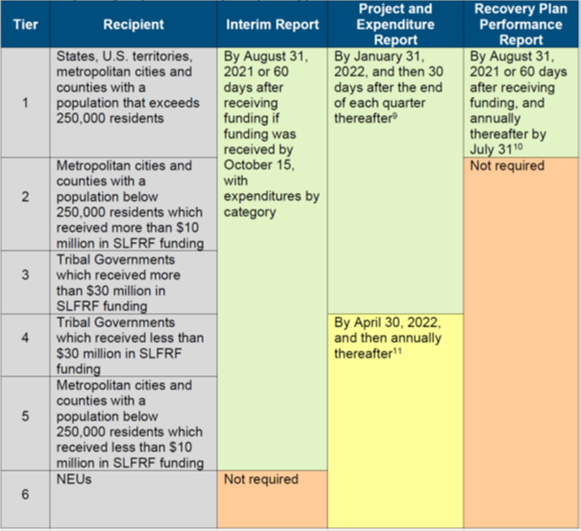 Additional Questions
Individual recipients may send any questions that are not answered in these materials to SLFRP@treasury.gov.
Additional Resources
Contact
Mark Gharst, Lobbyist - mgharst@orcities.org or 503-991-2192
Last Updated 1/14/22