Have a COVID-19 Question?
If you are looking for information not found here, let us know!
Submit your question
Due to the ongoing health concerns from COVID-19, the LOC office is closed until further notice and all staff is teleworking. The entire LOC team continues to support our members using electronic communication, and will be utilizing teleconferencing tools to facilitate meetings. We're still here for you - contact us for information and resources via phone or email.
Connect With the LOC
A Message from Mike Cully, LOC Executive Director
At the onset of this COVID-19 crisis we knew life was going to be dramatically different for the forseeable future. We also knew our cities needed answers and leadership in a way the LOC had not shown before. You can count on the LOC to be your North Star. On behalf of the LOC staff and its amazing board of directors, our mission and vision is clear: to assure our cities are supported at the highest level.
We are here for you. Please do not hesitate to reach out and connect with us.
Join the Upcoming Coronavirus Conference Call
Friday, February 26 at 10:05 a.m.
This week will be joined by our partners from Governor Brown's office, the Oregon Health Authority, and the Oregon Office of Emergency Management. There will be Q&A time to get your questions answered.
Have a COVID-19 Question? Ask the LOC
Submit your COVID-19-related question to us and we will respond via email.
Question of the Week
What should a business owner tell a customer who is not wearing a face covering?
Answer from the OHA: If your business is requiring face coverings and has posted clear signs as required under the Mask and Face Covering Guidance, you can ask the individual politely if they cannot wear a face covering because of a medical condition or disability. If they answer yes, then you should not require them to wear a face covering. It is not appropriate or allowed to ask an individual what their medical condition is or to make them provide proof of their medical condition or disability. If they answer no, then consider politely offering them a face covering, provide them with other options (e.g., online shopping) to find what they need, or ask them to come back with a face covering.
Have a COVID-19 question? Ask the LOC
Coronavirus Conference Calls for City Leaders
Each week, the LOC holds a conference call with our members and selected partners to discuss topics related to COVID-19.
How to Call In
Members are welcome to join in by phone, online or by downloading the Free Conference Call app.
Dial in by phone:
(516) 387-8432
No access code required
Join online/via web:
https://join.freeconferencecall.com/loc2020
Online meeting ID: loc2020
Using the Free Conference Call App:
Download and join using the app to lower the demand on phone networks: iPhone Android

Note: Call lines can get jammed, so call in early to ensure your participation on the call.
Listen to Recent Conference Calls
Each week, we are joined by our partners from Governor Brown's office, the Oregon Health Authority, the Office of Emergency Management, and other invited guests to provide up-to-the-minute information and answer your questions.
Friday, February 16
Listen to a recording of the call
Friday, February 12
Listen to a recording of the call
Friday, February 5
Listen to a recording of the call
Friday, January 29
Listen to a recording of the call
Friday, January 22
Listen to a recording of the call

For audio files of previous calls, please contact loc@orcities.org.
We're in This Together: Stories of Hope and Help from Oregon's Cities
As Governor Kate Brown's "stay-at-home" order took effect in March in response to COVID-19's arrival in Oregon, communities across the state found ways to support vulnerable residents, business owners, healthcare professionals and others in need of a helping hand. Here are a few of their stories.
Philomath Feeds the Hungry
Beginning March 17, the Philomath Food Bank served about 35-40 families per week during its usual hours on Tuesday evenings and Thursday mornings. Under the direction of Karen Rowe, the food bank distributed pre-packed boxes and bags, with limited choices to expedite the process.
"We've limited the number of volunteers packing the boxes, and clients have limited contact with anyone. We're maintaining good hand hygiene and sanitation practices," said Jean Goul, president of the board of directors for Philomath Community Services.
Philomath Community Services partnered with the food bank and Linn Benton Food Share to provide food boxes for residents. Faculty at Philomath Elementary School also ensured students were fed with emergency food boxes for families.
Fossil Residents Reach Out
In the small city of Fossil, Mayor Carol MacInnes personally called most residents who have utility service to ask if they were staying home and staying safe, if they had enough supplies to last, if they had any concerns and how the city could help them. She also ensured residents had contact information for essential services that deliver supplies.
"I had several residents offer to help those that requested it. One was worried that she did not have a can of Lysol. I took her a can that I had from home," MacInnes said. "Our community is striving to take care of each other and look out for the ones that need help during this time. I love Fossil."
#CitiesStrong Campaign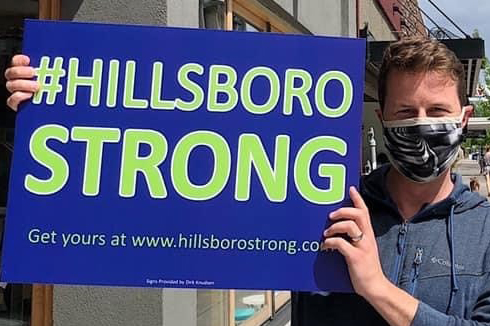 Show us how your community is showing support and encouragement during this time – be it yard signs, window displays, reader boards…let's see it! Share your photos on social media with the tag #CitiesStrong.
Follow the LOC for the Latest Coronavirus Information